Mood: Tired (it was a long week but it's finally FRIDAY!!!)
On TV: Judge Joe Brown (I love that people are willing to put theirstupidselves out on tv like this for my entertainment)
Dear bloggie friends, it is with great sadness that I announce that I have come to the end of an era. *sniff* For the last three years, my laptop has been my constant companion. She has allowed me to keep up (or not) with my blogging and my writing. She allowed me a gateway to the idea of Twitter and Facebook. She bears scars from my watch hitting her below the keyboard, spots on her keys from the occasional soda spray and is fully accessorized with a matching purple pendrive and carrying case.
However, recently she had some
issues with overheating
. The hubs worked on her, he added new heat grease to her processor and I restored her operating system. We thought we'd saved her and, in a way, we did - but - she's not quite her old self anymore. She's kind of like someone's beloved old auntie who isn't always quite as sharp or fast as she used to be. She randomly shuts down programs as I'm using them and reboots herself quite often when she should be just putting herself into sleep or hibernate mode. No amount of setting changes seem to rectify the situation.
Finally the hubs decided that, since we were getting a new desktop for him (lightning strike) that we would get a new laptop for me. I should be happy (the cost aside) but I'm not. I'm in mourning for my current laptop. She was a gift from the hubs - his way of saying "I have faith in your ability to write and I'm willing to provide you with the proper tools to do it". She's pretty and purple with flowers and I super sparkly heart her...even if she doesn't work as quickly or reliably as she used to.
However, hubs is right. I can't depend on her not to crash in the middle of a blog post or a marathon writing session so she needs to be retired to "light duty". We will use her as a back up/ travel laptop. She will get to enjoy her retirement by accompanying us on trips, seeing different places and enjoying making connections with different networks where ever we go.
She will always be my first laptop love. Maybe I'm weird for having such an attachment to my laptop or maybe it's a writer thing but I'm having issues letting her go. Even now, with my new laptop is sitting on the table, still in the box, I chose to post this one last blog post from my old friend.
Well done, good and faithful servant.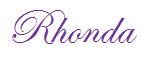 P.S. My trusty old laptop has crashed this blog post at least 3 times already. I think she's trying to make the transition a bit easier for me.